T-Shirt-"Bulgarian traditions"
One of the most memorable Bulgarian customs is cooking. The Kukers dance special dances that aim to ward off evil spirits. Kuker masks are made of various fabrics and threads, and the construction is wooden. The purpose of the mask is to make it as scary as possible so that it can successfully scare and drive away evil.
The holiday Surva is one of our winter holidays, it is always celebrated on January 1, in which our ancestors celebrated Surva day, the day of light. On this day the nine dirty or black days end, in which the Sun hesitates whether to continue on its old path or to take a new one. On the first day of the new year, it is clear that the Sun will again follow its well-known path and the life of Earth will continue as we know it.
According to legends, the first martenitsa was made by Achinora, the wife of Khan Asparukh, in the second half of the seventh century, when Asparukh crossed the Danube and discovered the lands around the Balkans for the Bulgarians. Achinora waited for her lover for a long time and finally tied a twisted white and red thread to the swallow's leg and let the bird deliver her message of health and love.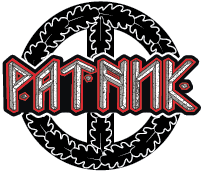 Collection:2020
Fabric: 100% Cotton
Weight: 150gr/m2
Big chest DTG print
Ratnik label in the neck
Made in Bulgaria